For latest news on covid-19 - please visit our dedicated covid-19 news page
You can keep up to date with all the news and developments from The Cremation Society here:-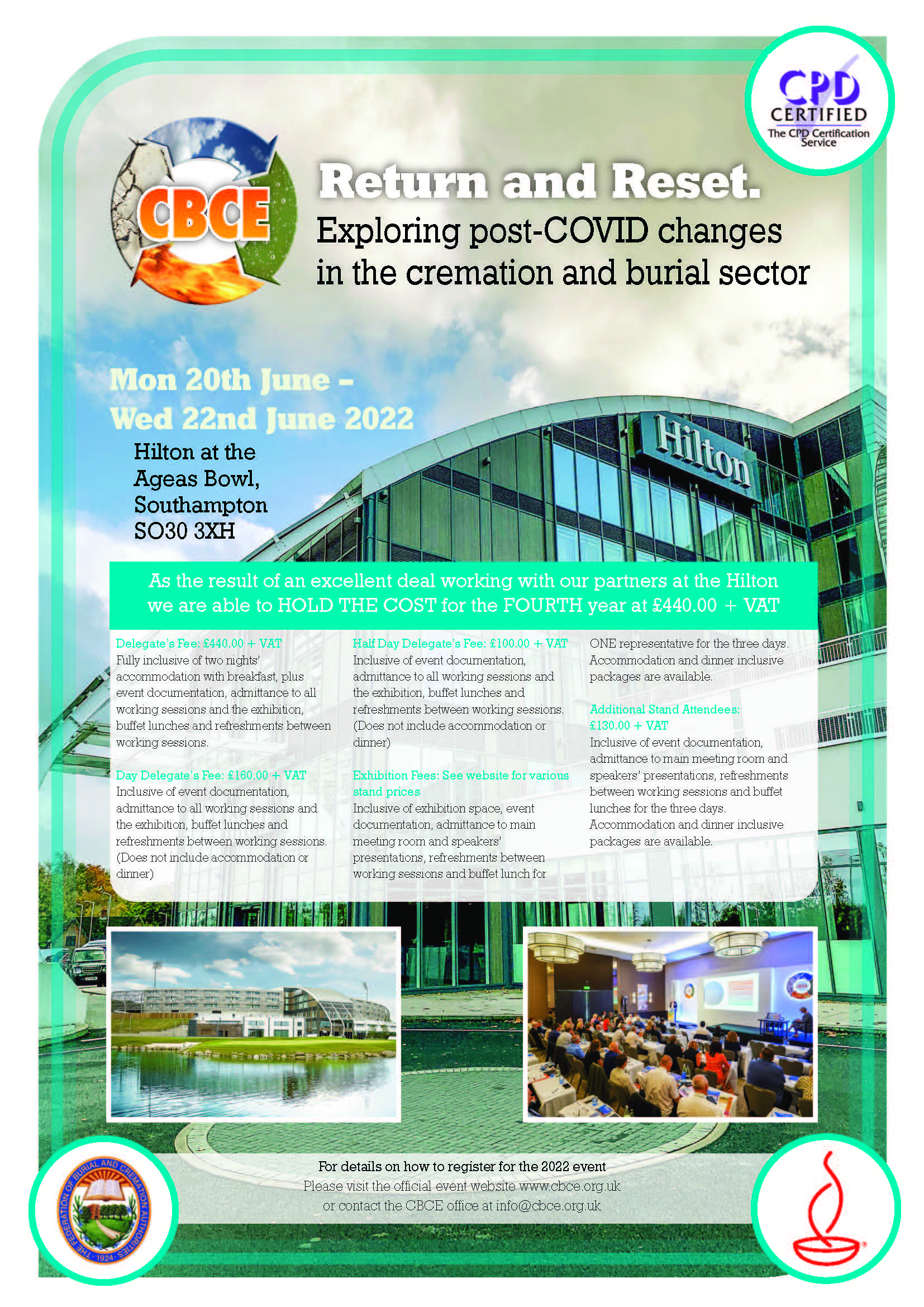 JOINT SEMINAR REVISED DATE 30TH MARCH 2022 - Due to COVID, the date of the joint bereavement seminar has been moved from 2nd February to 30th March 2022. Booking details will be publicised shortly.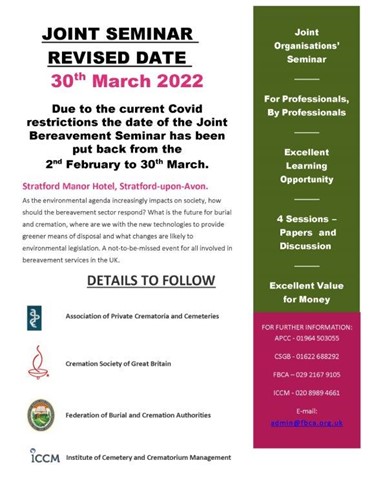 SAVE THE DATE : We are sorry to announce that our 'in-person' CBCE 2021 event has been postponed to 2022. We are delighted to announce that CBCE 2022 will be held from Monday 20th June to Wednesday 22nd June 2022 at the Hilton at the Ageas Bowl, Southampton. We are also very pleased to announce that we will be holding a one-day 'virtual' CBCE event on Wednesday 23 June 2021. Please visit the CBCE webpage for more details.
CBCE Virtual 2021 - 'Reflecting on the challenges, preparing for the future' - Wednesday 23 June 2021 - although we will not be meeting in person in 2021, we are delighted to offer a one-day CBCE virtual event, bringing together keynote speakers to offer their updates and insights into how the funeral sector will look, post-pandemic. We will also be discussing how we can respond to another challenge – the environment. To register for this online event and to read more on our sponsors, please visit the CBCE website.
2022
APRIL
MARCH
FEBRUARY
JANUARY
2021DECEMBER
NOVEMBER
OCTOBER
SEPTEMBER
AUGUST
JULY
JUNE
MAY
APRIL
MARCH
FEBRUARY
JANUARY
2020
DECEMBER
23.12.2020 The Cremation Society's offices will be closed from 24th December 2020 to 4th January 2021
21.12.2020 National Medical Examiner - December update
18.12.2020 CMA publishes its final report as part of its Funerals Market Investigation
04.12.2020 Cremation Society's journal - Pharos International - Winter Issue published
NOVEMBER
OCTOBER
SEPTEMBER
AUGUST
JULY
JUNE
MAY
APRIL
march
FEBRUARY
JANUARY
2019
DECEMBER
november
OCTObER
september
Cremation Society announces 'Burial and Cremation : The Future Matters' - one-day seminar in Belfast in November 2019
aUGUST
JULY
JUNE
may
APRIL
march
February
January
2018
December
November
October
September
August
July
June
May
April
March
February
January
2017
---
December